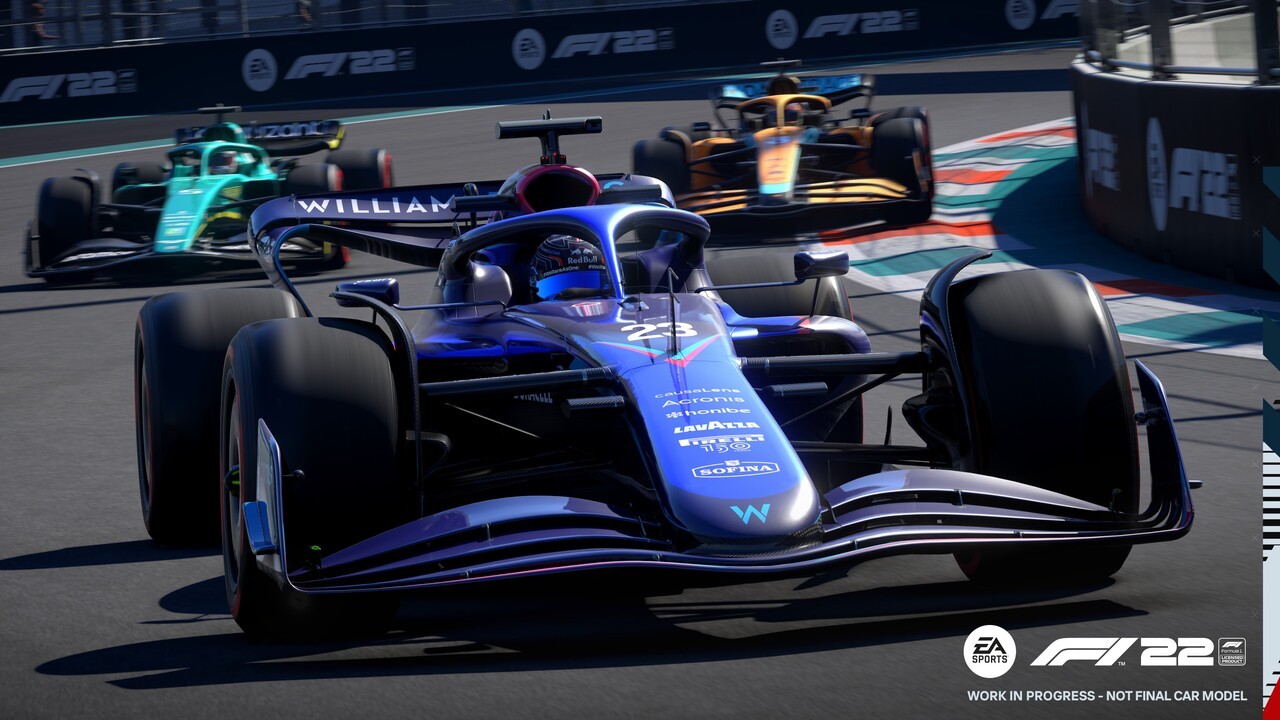 F1 22 skips story mode for more authentic and flexible racing
Just like real motorsport, the official Formula 1 game will undergo a number of changes this year. F1 22, like every iteration before it, aims to capture the sport as accurately as possible, and for this season that means all new vehicles, tire rules and regulations, not to mention the debut of the Miami Grand Prix. All of this will be reflected in the game, and Codemasters points out that it's overhauled the physics engine to account for the new cars and their larger wheels, as well as tweaks to some tracks to keep up with real-world changes. These things alone would be enough to change, but the studio takes it even further.
Perhaps the most notable difference between this new release and last year's entry is the absence of Braking Point, the story mode that introduced characters like Aiden Jackson and Casper Akkerman to a fictional version of F1. . Codies says the mode is missing from F1 22 so the team can spend more time on a follow-up, which will likely arrive with next year's game. While it's a shame to see Braking Point put on the back burner, the studio was instead able to focus on gameplay and its "biggest overhaul ever to game mechanics and presentation."
As mentioned, the aerodynamics, suspension and tire patterns have been significantly updated to match the new cars, evolving the already excellent handling pattern to ensure it's authentic – no porpoising, mind. Speaking of authentic, team performance will be adjusted in-game to match actual stats, and the racing experience is deepened with the inclusion of sprint races in Career and My Team.
This isn't the only change to popular modes. In an effort to appeal to both casual and hardcore gamers, the studio has pushed accessibility as well as features that will appeal to fans. For example, the formation laps and safety car sequences are both fully playable if you want to immerse yourself more, but those elements can also be skipped entirely, instead of playing broadcast-like cutscenes so you can concentrate. on the race itself. Practice schedules and pit stops can also be changed to your liking, providing a more realistic or guided experience. Adaptive AI is another new feature for F1 22, and as the name suggests, it will react to your driving and skill level to ensure races are neither too easy nor too difficult.
You will also be able to start your career mode in one of three starting points, depending on what you are looking for; If you want, you can start with a squad at the top of the table, opt for a midfield maker, or as usual build your squad and reputation from scratch. It looks like Codemasters has a more customizable game than ever.
On top of that, F1 Life, a new feature which in a nutshell gives you a better insight into the F1 lifestyle. Our understanding is that it acts as a sort of hub for your avatar. You can equip them not only with racing gear, but also with casual clothing and accessories, and you'll unlock more cosmetic goodies like this throughout your career and earn money. This is where you can also customize your own space, invite your friends and also see their drivers. More exciting is the inclusion of supercars, as they can be driven. Yes, you will be able to take to the F1 circuits in road-legal vehicles as well as those monstrous minivans. Pirelli Hot Laps will appear during Career and My Team, and new modes like Autocross, Drift, Average Speed ​​Zone, and Rival Duel let you tear up the tarmac in luxury cars like Aston Martin, Ferrari, McLaren, and Mercedes-AMG.
It all sounds pretty exciting, although we haven't played the game for ourselves yet. Given the high quality of previous entries, however, we have no doubt that F1 22 will deliver an equally enjoyable racing experience. The only question mark concerns virtual reality. PC VR headsets will be fully supported in this new entry, allowing you to play the entire game from the virtual driver's seat. Unfortunately, no mention of PSVR or PSVR2 was made during the preview presentation. We asked, but received no response. The hope is that Sony's next headset will indeed receive support when it arrives, but there's no official word yet.
Aside from the missing story mode, it looks like Codemasters is building an extremely robust new entry. Obviously, we'll have to take it for a test drive before we can draw any real conclusions, but from everything shown, we can't wait to get back on the road.
---
F1 22 is scheduled for release on July 1, 2022, and those who pre-order the Champions Edition will receive access three days earlier. Are you looking forward to this year's game? Snap to the grid in the comments section below.